NYCDEP, Assessment of Tallman Island Interceptor Sag in Ulmer Street
Posted on June 8, 2015
Client: New York City Department of Environmental Protection
Location: College Point, Queens
Project Period: 2011- Present
Project Cost: $44,000,000

Project Description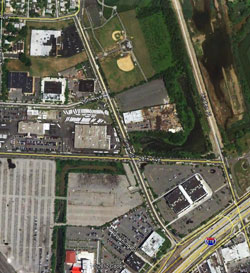 The New York City Department of Environmental Protection (NYCDEP) operates 14 Water Pollution Control Plants (WPCP) including the Tallman Island WPCP located in College Point, Queens. The Ulmer Street portion of the Flushing Interceptor had previously been reported to have a sag that could compromise the sewer's integrity and affect the flow reaching the Tallman Island WPCP. The project assessed and identified corrective actions to address structural deficiencies and diminished capacity.
D&B conducted a manhole surveys in 2012 and 2013 to determine the degree of settlement of the interceptor (establishing pipe crown elevations), reviewed the CCTV tapes and conducted a snow load analysis on the street as the result of snow removal operations by the New York City Department of Sanitation on Ulmer Street over the past years.
D&B compared the manhole surveys to the results of previous studies (2005 and 2009) as well as the as-built drawings (1937). D&B determined that the settlement of the interceptor's crown from 1937 to 2005 did occur along the length of the pipe and correlated with settlement over time due to the area's geology.
D&B conducted a snow load analysis that determined the additional snow load could accelerate the already occurring natural settlement process.
D&B reviewed the CCTV tapes of the interceptor utilizing the WRc Methodology. D&B determined that the cracking found did not warrant a Grade 5 sewer classification. A buildup of debris and grease inside the sewer was observed. This buildup along with the variable slope of the sewer reduced the capacity of the pipe original design.
D&B initially prepared an Engineering Report that presented the results of the surveys and previous studies, and provided short term recommendations going forward including the ceasing of the snow removal operations, and continuing to reinspect and reevaluate the condition of the sewer. D&B then developed a Conceptual Design that included the development and evaluation of long term alternatives for the reconstruction/rehabilitation of the sewer, the recommendation of an alternative and the preparation of a detailed cost estimate for the chosen alternative.
See all Profiles related to Wastewater Management


For more information about this service, email us at findingsolutions@db-eng.com.