Action Trucking Co., Inc., 6 NYCRR Part 360 Used Oil Transfer Facility
Posted on July 13, 2015
Client: Action Trucking Co., Inc.
Location: Wantagh, New York
Project Type: 6 NYCRR Part 360 Used Oil Transfer Facility

Major Components
SEQRA Review
Pre-Application Meeting
6 NYCRR Part 360 Permit Application
Project Description
Introduction
Dvirka and Bartilucci Consulting Engineers (D&B) was retained by Action Trucking Co., Inc. (Action) to provide assistance in obtaining a 6 NYCRR Part 360 Permit for its used oil transfer facility in Wantagh, New York.
Facility Description
The primary function of the used oil transfer facility is to receive, bulk and store used oil and waste oil prior to subsequent transportation to another solid waste management facility for recycling. The primary source of waste oil is generated during tank closure projects conducted by Action. However, the facility also receives used and waste oil from various industrial and commercial facilities.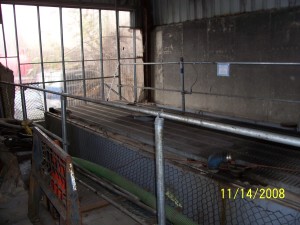 The used oil transfer facility consists of four single-walled 7,500-gallon aboveground storage tanks use for the bulking and consolidation of used and waste oil. One of the four tanks is dedicated for virgin fuel oil generated during tank closure projects that is directly reused on-site for heating. Another tank is dedicated to fuel oil that is not virgin fuel oil, such as tank bottoms and sludge, fuel oil contaminated with water, or fuel oil otherwise not considered virgin fuel oil. The two remaining tanks are dedicated for used and waste oil from industrial sources, including used engine lubricating oil, hydraulic oil, transmission fluid, mineral oil, vegetable oil, etc. One of these tanks is dedicated for oil-based used and waste oil from industrial sources, while the other tank is dedicated for water contaminated with such materials.
In addition to the above, Action operates roll-off containers for the bulking and consolidation of oily-debris and construction and demolition debris generated by Action during its tank closure and demolition projects.
6 NYCRR Part 360 Permit Application
Action was required to obtain a 6 NYCRR Part 360 Permit from the New York State Department of Environmental Conservation (NYSDEC) in order to conduct the operations described above in accordance with 6 NYCRR Parts 360-1, 360-14 and 374-2. D&B prepared the following in support of the permit application:
• Detailed description of facility operations, including a used oil management flow chart, to clearly outline facility operations to the NYSDEC;
• Used Oil Quality Control Plan, including detailed waste screening procedures and acceptance protocols, minimum analytical requirements for incoming loads, waste sampling procedures, used oil rebuttal procedures to ensure the facility does not accept hazardous waste and a used oil tracking system;
• Facility Contingency Plan, outlining emergency response and notification procedures to be implemented by the facility during a spill or other emergency;
• Facility Closure Plan outlining the procedures to be implemented by the facility during closure and a closure cost estimate that was used as a basis for determining the NYSDEC required financial assurance; and
• Operations and Maintenance Manual describing the operation of the facility and necessary inspections and maintenance procedures to be implemented at the facility to ensure that facility equipment is properly maintained in acceptable working order.
D&B supported the permit application during its review by the NYSDEC, addressing all comments issued by the NYSDEC related to the permit application. D&B's coordination with NYSDEC played an important role in this project to ensure that the permit application met NYSDEC's requirements while at the same time allowed Action the flexibility to operate its facility in a manner consistent with its normal business practices. In addition, NYSDEC initially determined that several regulatory requirements applied to the facility, including requirements to prepare a Spill Prevention, Control and Countermeasures (SPCC) Plan and obtain a 6 NYCRR Part 360 Permit for a trailer utilized for the storage of asbestos containing materials (ACM) prior to subsequent proper off-site transportation and disposal. However, D&B determined that these requirements did not apply to Action and was able to successfully demonstrate this to NYSDEC.
See all Profiles related to Multimedia Environmental Compliance


For more information about this service, email us at findingsolutions@db-eng.com.