NYCHA Astoria Houses
Posted on June 19, 2014
Client: Astoria Houses
Project Type: NYCHA Indefinite Delivery Indefinite Quantity Construction Management Services in Connection with the Hurricane Sandy Recovery Program
Project Period: September 2014 – September 2016
Project Cost: Program Value: $4 Billion, Construction Value: $100 Million

Major Components
Attend meetings with NYCHA, Architect/Engineer, and Program Manager
CPM Scheduling
Environmental Hazardous Sampling
Constructability and value engineering review
Construction Quality Management Plan
Construction Administration and Management
Construction Management Information System
Quality Control and Testing
Resident Engineering Inspection
Assist in obtaining Certificate ofOccupancy
Complete construction closeout
As-built drawings
Prepare final report
Section 3 Management
Project Description
The Astoria Houses consists of 22 buildings, 6 and 7-stories high located in Long Island City, NY. This Queens development has 1,102 apartments that are home to some 3,135 people. As a result of Hurricane Sandy, the Astoria Houses Development sustained damage in a total of 22 out of 23 Buildings (Buildings #1 thru 13 and 15 thru 23), including power loss and flooding.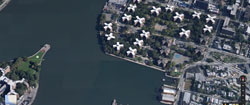 Under this project, the Astoria Houses will receive Category II repairs which include repairs and storm hardening of  the buildings. Each of the buildings will receive a rooftop generator that will be used to power the buildings in the  event of a black-out or brown-out. Additionally, buildings that experienced flooding and are below the flood   elevation will receive flood barriers and flood repairs. D&B has been selected to provide construction management services for this development as part of D&B's on-call Sandy Repair CM contract.
See all Profiles related to Construction Management


For more information about this service, email us at findingsolutions@db-eng.com.