Clean Water of New York, Inc. Environmental Compliance Review and Permitting Services
Posted on July 13, 2015
Client: Clean Water of New York, Inc.
Location: Staten Island, NY
Project Type: Environmental Compliance Review and Permitting Services

Major Components
Part 360 Permit Application
Feasiblity Study
Design Services
Integrated Contingency Plan
State Facility Air Permit
SPCC Plan
Project Description
Project Description
The firm was retained by Clean Water of New York, Inc. (CWNY) to provide environmental permitting and overall multi-media  compliance services in connection with its 25,000,000 gallon per year waste oil recycling and reprocessing facility located in New York. All environmental engineering activities were completed in support of Consent Order negotiations with the New York
State Department of Environmental Conservation (NYSDEC) and in coordination with the requirements of an on-site Environmental Monitor. At the initial stages of the assignment, the firm prepared a completely revised Part 360 permit  application package for the facility, addressing the recent revisions to NYSDEC's revised Part 360 regulations for used fuel oil recycling and reprocessing facilities. This portion of the project included the following activities:
• Design, integration and implementation of comprehensive revisions to its existing standard operating procedures into a Quality Control Plan for the facility. The plan made provision for a decision tree-like matrix presenting a detailed protocol defining the specific waste streams to be accepted at the facility. The Quality Control Plan presented detailed specifications for the following:
     – Waste stream sample collection procedures based on the type and source of incoming waste oil to the facility.
     – The identification of specific sample collection frequencies based on similar source categories.
     – The review of specific laboratory analytical procedures to be utilized in analyzing waste oil based on its source of generation, thereby allowing for proper waste characterization.
     – The utilization of various regulatory thresholds for screening for and protecting against the acceptance of hazardous waste at the facility.
     – The development of clear and definitive standard operating procedures addressing the specific circumstances under which waste would not be accepted and how such rejected waste loads were to be properly "manifested" to its point of origin.
     – The development of comprehensive internal auditing procedures for assuring regulatory compliance and appropriate Quality Assurance/Quality Control (QA/QC) at the on-site laboratory.
• The development of a detailed inspection and record keeping system to assure and enhance the compliance of the facility with the following environmental regulations:
     – 6 NYCRR Part 360 regulations regarding used oil
     – 6 NYCRR Part 600 series regulations regarding aboveground petroleum bulk storage tank requirements
     – 6 NYCRR Part 373 regulation regarding hazardous waste management, as appropriate
     – 40 CFR Part 112 and Article 11 of the New York State Navigation Law pertaining to Spill Prevention Control and Countermeasures (SPCC) Plan requirements
     – Spill and emergency reporting under various regulatory programs including SPCC Clean Water Act and Part 360 Contingency Plan requirements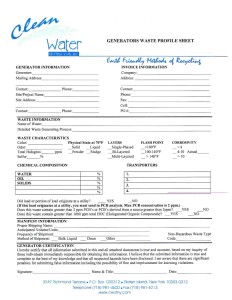 • The preparation of a facility-wide closure plan for both waste oil and hazardous waste storage tanks including cleaning, decontamination, "vapor freeing" and final decommissioning.
• The preparation of a Contingency Plan providing for emergency response to spills, fires and explosions, including containment, cleanup, decontamination and repair procedures following response actions.
• Provided technical assistance to the client in the evaluation of the performance of the on-site wastewater treatment system with regard to compliance with the mandated effluent limitations established in its State Pollution Discharge Elimination System permit.
In addition, a facility-wide environmental compliance review of bulk storage facilities, including aboveground tanks, secondary containment structures, loading/unloading racks and process equipment was conducted by the firm. Compliance with 6 NYCRR Parts 360 and 612, 613 and 614 was evaluated in detail and corrective action was recommended as needed to bring the facility into compliance with state and federal regulations.
CWNY also retained the firm to update the facility's SPCC Plan and provide a Registered Professional Engineer's certification as required by 40 CFR 112. In this capacity, the firm worked closely with the facility's operating and engineering personnel to identify non-compliant equipment, practices and procedures, and implement corrective actions. The scope of this work included a comprehensive evaluation of facility drainage structures, transfer operations, pumps and in-plant process equipment, tank and rail car unloading racks, and facility security measures.
As a result of the firm's engineering support a list of facility improvements and upgrades were developed along with cost estimates and an implementation schedule.
The firm provided support to CWNY in implementing the recommended improvements and upgrades. These activities included:
1. Identification of any operational waste streams at the facility for conveyance to the existing on-site industrial wastewater treatment facility (including boiler blow-down, cooling water, etc.). Completion of a detailed engineering feasibility study to evaluate and select appropriate wastewater treatment technologies leading towards the development of a cost-effective upgrade and expansion of the facility's existing wastewater treatment system. The system must be designed for a wide range of wastewater streams associated with barge and vessel cleaning.
2. Preparation of plans and specifications for the expansion and upgrade of the wastewater treatment system.
3. Update of the facility's Part 360 permit to incorporate the upgraded treatment system and comply with recently promulgated regulatory revisions and planned expansion of operations.
4. Update of the facility's State Pollutant Discharge Elimination System (SPDES) Permit to incorporate the upgraded treatment system.
5. Consolidation of the facility's SPCC Plan, Facility Response Plan and Contingency Plan into one Integrated Contingency Plan that meets all Federal and State requirements.
6. Design and installation of required air pollution control technology associated with the upgrade and expansion of the facility's existing wastewater treatment facility.
See all Profiles related to Multimedia Environmental Compliance
See all Profiles related to Geographic Information System (GIS)


For more information about this service, email us at findingsolutions@db-eng.com.