Camden County Municipal Utilities Authority, Sludge Drying Facility Biofilter and Carbon Filter Odor Control System
Posted on August 25, 2014
Client: Camden County Municipal Utilities Authority
Location: Delaware No 1, Water Pollution Control Facility
Project Period: 2009 - 2012
Project Cost: $1,250,000

Major Components
60 feet by 30 feet biofiltration system
FRP biofilter vessel
Biofilter irrigation and humidification system
38 feet diameter x3 feet high dual bed activated carbon system
Odorous Exhaust Fan System
Stainless steel ductwork – 10"diameter to 48"x60"
Electrical and Controls
Project Description
Project Background
As a part of the Authority's effort to reduce sludge generation and odor potential from the 80mgd Delaware No. 1 WPCF, CCMUA hired D&B to design a Sludge Drying facility. Within the $28 million Sludge Drying Project D&B designed a comprehensive Odor Control System.
The Odor Control System included the following:
Biofilter – The single 3,000 cfm fixed bed inorganic biofilter system treats the exhaust from three indirect sludge dryers with total drying capacity of 220 wet tons of sludge per day. Treatment requirements include the removal of hydrogen sulfide, VOCs, ammonia, reduced sulfur and other odors compounds generated during drying of the combined raw primary and waste activated sludge.
Carbon Filter – The 90,000 cfm dual bed activated carbon system treats the exhaust from within Sludge Dryer Building, the odorous air from under the covers of the sludge screw conveyors and storage silos and the exhaust from the biofilter. The carbon filter was design inside an existing concrete storage silo.
D&B Project Responsibilities
D&B's responsibilities included planning, design plans and specifications, bidding support, construction management, O&M manuals and start-up and training services.
Planning phase included evaluation of odor generation, odor treatment technologies and ductwork materials. Planning and design phases of the Project were completed on tight schedule to insure availability of the state and federal funds required for construction, with bids received within the Authority's capital budget constraints.
Major Problems Anticipated and Resolved
The Projects complex design included the reusing part of an existing building, demolition of existing sludge treatment facilities no longer in service, modification of the existing building including converting a concrete silo used to store wood chips to a activated carbon vessel, and ventilation systems requiring coordination with odor control ductwork ranging in size up to 48 by 60 inches and new odor control equipment; maintenance of odor free operations during construction and start-up and mitigating the odor concerns of the local community.
Engineering Description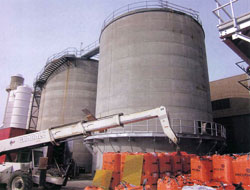 Technical Design Report for installation of an odor abatement system for the 220 wet tons Sludge Drying Facility.
Installation of a 3,000 cfm fixed bed biofilter system housed in FRP vessel, including irrigation and humidification system, fans and PLC control system.
Installation of a 90,000 cfm dual bed activated carbon odor control system housed in the existing 40 foot diameter by 60 feet high concrete silo, including erecting FRP support system for the carbon media and modifications to the existing concrete vessel.
Installation of a stainless steel odorous air ductwork system ranging in size from 10" to 48" by 60".
Installation of odorous air exhaust system, consisting of three 45,000 cfm fans, controls and exhaust air plenum.
See all Profiles related to Wastewater Management


For more information about this service, email us at findingsolutions@db-eng.com.