Departmental Office Renovations Anesthesiology Department Offices
Posted on June 16, 2001
Client: New York Hospital of Queens (NYHQ)
Location: Main Street, Flushing, New York
Project Type: Anesthesiology Department Offices
Project Period: 2001
Project Cost: $300,000

Major Components
Densification Allowed for Department Training Room
Space Allocation
Natural Light from Corridor & Atrium
Project Description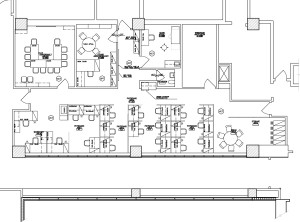 This project was conducted as while Mr. Rodriguez was part of the in house staff of the Planning Department. During this time several request we made to restack and reorganize the department to maximize best use of space with in the hospital as a whole. This project was for the anesthesiology  department. The long narrow space was broken up to allow for small stations for the doctors to use as their main focus was to be engaged with patient treatment. The layout allows for them to have a space to type up reports while not in an operating room. By freeing up space we were able to create dedicated department training room.
See all Profiles related to Architecture


For more information about this service, email us at findingsolutions@db-eng.com.