Exterior Masonry – New York City School Construction Authority
Posted on June 18, 2005
Client: New York City School Construction Authority
Location: Rachel Jean Mitchell Elementary School, P.S. 137, 121 Saratoga Ave., Brooklyn, NY
Project Type: Exterior Masonry
Project Period: 2006 - 2008
Project Cost: Estimated Budget: $2,524,776, Actual Construction Cost: $2,676,000

Major Components
Phase I – Field Investigation & Scope Report
Phase II – Design Development & Construction Documents (Drawings & Specifications), Asbestos/Lead Abatement, and  Estimating
Phase III – Construction Administration Services & Project Closeout
Project Description
This 4-story building is listed on the NY State Historic Preservation Register and was in need of restoration and repair of the  exterior masonry walls and decorative terra cotta copings and roofs. Water was flooding into the basement due to poor grading and inappropriate stair design. The grade and stair have been corrected and damaged areas restored. Entry doors and canopy were decayed and replaced. Roof and terra cotta copings were replaced in kind, and the proposed design enhanced water flow away from the structure.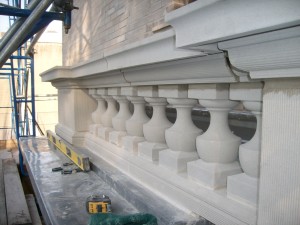 At the start of the project, a detailed Scope Report on the existing conditions of the building and an analysis of the current issues and the proposed solution was created. Special attention is paid to investigating the cause of water infiltration, using  masonry probes and non-destructive water ingress testing.The Scope Report is used as the basis for the development of the   Construction Documents.
SCOPE OF WORK:
• Structural Roof Deck Replacement
• Terra Cotta Restoration and Replacement
• Flood Elimination
• Extension Stair Replacement and Restoration
• Remove and Replacement of Exterior Doors
• Historic Cast Stone Restoration
• Remove and Replace Copper Pan Roof and Gutter
• Exterior Masonry Restoration
• During project scope phase, non-invasive water infiltration testing and building probes were utilized to determine sources of  water egress.
• Replace and/or re-point face brick in areas of building facade that were shown to be sources of water infiltration.
• Re-grade area of rear Play Yard to address water infiltration into Basement Cafeteria.
• Repair interior areas, including patching and repainting plaster, that were damaged by water infiltration.
See all Profiles related to Architecture


For more information about this service, email us at findingsolutions@db-eng.com.