Highland Avenue Pump Station Rehabilitation Peekskill Sewer District
Posted on April 14, 2015
Client: Westchester County Department of Public Works and Transportation
Location: City of Peekskill, New York
Project Period: 2009- Present
Project Cost: $4,000,000

Major Components
Pump Station Rehabilitation
Electrical Systems
Emergency Station Bypass System
Programmable Logic Controls (PLC)
Code Compliance Study and Report
Wet Well Improvements
Automatic Mechanical Bar Screens
LEED Analysis
Compactors/Washers
Alarm System
HVAC Systems
Site Work
Piping Systems
Fire Alarm Security
Project Description
The Station is comprised of three (3) non-clog, shaft mounted pumps each rated for 5,000 gpm and operated using variable speed 100 Hp motors. The average wastewater flow through the station is approximately 6,500,000 gallons per day and the peak daily flow is 15,000,000 gallons.
D&B was retained by the Westchester County Department of Public Works to design the rehabilitation of the Highland Avenue Pump Station.
Design elements included a code compliance study and report, design of automatic mechanical bar screens, new valving and piping, compactors/washers, HVAC systems, piping systems, station bypass alternatives, electrical systems, PLC controls and wet well improvements.
D&B's project responsibilities included design of the following systems:
Building Fire Alarm and Security
A fire alarm system was designed for the pumping station. The system includes notification and detection devices rated for use in Class I, Division 1 explosion hazard areas and corrosion resistant.
Intrusion door switches were provided at doors and integrated with the SCADA system to provide notification of building entry.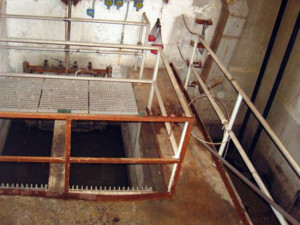 See all Profiles related to Wastewater Management


For more information about this service, email us at findingsolutions@db-eng.com.