Incorporated Village of Sands Point, New Water Supply Well 8 and Iron Filtration System
Posted on June 29, 2015
Client: Incorporated Village of Sands Point
Location: Sands Point, NY
Project Type: New Water Supply Well 8 and Iron Filtration System
D&B Project Manager: Philip R. Sachs, P.E.
Project Cost: $2,500,000

Project Description
D&B provided engineering services for the design and construction of a new 600 gpm well, iron and manganese filtration system, ground level storage tank, booster pumping station and associated facilities. A new well house and booster station was constructed to house the well pump, booster pump, piping, valves, electrical, controls and chemical feed equipment. The iron and manganese filtration system was installed inside the existing treatment building for Well 6, which was designed by D&B in 2003.
Separate contracts were prepared for the construction of the new well and for the construction of the treatment facilities.
Chemical facilities included a new aboveground double walled sodium hypochlorite tank and feed pump and a new sodium hydroxide feed pump. Improvements to the Village's existing SCADA system were included to incorporate the new well and treatment equipment.
D&B prepared the preliminary design reports, contract drawings and contract specifications for this project. D&B provided construction management and inspection services during the construction. D&B assisted the Village in obtaining approvals from the Nassau County Department of Health (NCDH) and the New York State Department of Environmental Conservation (NYSDEC).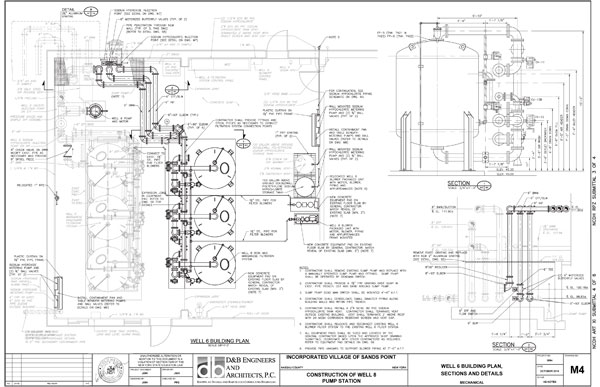 See all Profiles related to Water Supply Services


For more information about this service, email us at findingsolutions@db-eng.com.