International Business Machines Corporation East Fishkill and Poughkeepsie Facilities
Posted on July 8, 2015
Client: International Business Machines Corporation
Location: Dutchess County, NY
Project Type: East Fishkill and Poughkeepsie Facilities

Major Components
Development of Waste Minimization/Pollution Prevention Programs
Implementation of Waste Minimization/Pollution Prevention Programs
Project Description
Introduction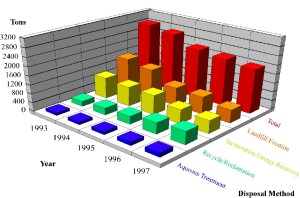 International Business Machines Corporation (IBM), one the nation's leading manufacturers of computers and semiconductors,  operates facilities in East Fishkill (Hopewell Junction) and Poughkeepsie, New York, which have been used for semiconductor  research, development and manufacturing. Until recently, the semiconductor manufacturing industry utilized primarily  solvent-based cleaners in their manufacturing processes that required disposal as hazardous waste. The industry trend has now been toward a reduction in the use of solvent-based cleaners, which are being replaced by aqueous-based cleaners that can be discharged to and treated in onsite industrial wastewater treatment facilities or transported off-site as nonhazardous  waste. As a result, the quantities of hazardous waste requiring off-site disposal have been significantly reduced. Additional benefits include reduction of actual and potential emissions and the reduction in the cost of compliance while reducing both the cost and liability of associated with the ultimate disposal of hazardous waste.
The firm has been responsible for the development and implementation of waste minimization/
pollution prevention programs at these facilities, including the following:
• Waste Reduction Audits
• Waste Characterization/Classification
• Waste Reduction Opportunity Assessments
• Waste-to-Production Index
• Federal/State/Corporate Reporting
• Training Programs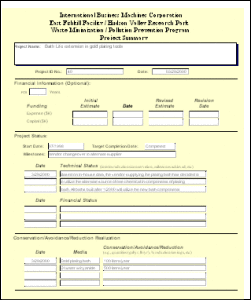 Waste Reduction Audits
The firm's audit team methodically evaluated each affected process operation at the IBM East Fishkill and Poughkeepsie facilities with the goal of identifying cost-effective waste reduction opportunities. At the start, the audit team conducted a pre-audit information review that identified those process operations that generated hazardous waste, the type of processes and chemicals involved, and points of contact within each area to conduct audit interviews.
As part of the audit, interviews were conducted with process engineers, managers and supervisors, to complete waste reduction questionnaires, specifically designed to fully document each process operation. Data requested by the questionnaires include chemical and material inputs, process schematics and as-built drawings, emission points and quantities and characteristics of hazardous waste generated including containerized waste and discharges to the on-site industrial waste treatment facilities.
The goal of the audit was to collect as much information about each process operation as possible to develop a full  understanding of each step in the process and enable potential waste reduction alternatives to be identified.
As part of the waste reduction audit process, databases were developed to characterize and quantify the various types of waste generated by each process operation. These databases track containerized waste (typically 55 gallon drums), bulk waste solvents (collected in permitted hazardous waste storage tanks), flows to on-site wastewater and fluoride/heavy metal treatment facilities and shipments of waste to off-site treatment, storage and disposal facilities.
Specifically, the firm developed three databases for the IBM East Fishkill facility entitled the Containerized Waste database, the  Tank Inventory/ Shipments database and the Waste Shipments database. These databases are currently in use today to  document and track the generation of all forms of waste generated at the IBM East Fishkill facilities. The firm also assisted in the development of similar databases for the IBM Poughkeepsie facility.
Waste Characterization/Classification
Utilizing the data obtained from the audit, each process operation was thoroughly reviewed to identify what chemicals are used, at what points in the process they are utilized and at what points in the process hazardous waste is generated. When necessary, follow-up interviews were conducted to complete the information on each process operation. The firm developed process flow diagrams to further clarify the chemical inputs and hazardous waste generation outputs associated with each process operation.
Waste Reduction Opportunity Assessments
Following the audits, it was possible to identify several recycling/reclamation alternatives. Alternatives investigated include the evaluation of administrative controls such as training and optimizing chemical inventory and management techniques through process optimization and modification, chemical substitution and chemical reprocessing technology evaluation.
The feasibility of each alternative was evaluated including a life cycle cost analysis and calculation of return on investment. Those projects with a favorable return on investment are recommended for implementation.
As part of the waste reduction opportunity assessments, a database was developed to maintain information on each alternative selected for implementation at both the IBM East Fishkill and Poughkeepsie facilities. These databases are currently in use today by environmental operations personnel at both facilities to document and track all ongoing waste minimization projects.
Waste-to-Production Index
The hazardous waste-to-production index is a convenient means for determining the effectiveness of waste minimization efforts. By correlating waste generation to production, it is possible to determine whether or not hazardous waste generation increased or decreased per unit of production. The waste-to-production index for the IBM East Fishkill facility utilizes the data collected and maintained in the Containerized Waste, Tank Inventory/Shipments and Waste Shipments databases to accurately allocate waste to the departments that are generating it. The IBM Poughkeepsie facility provides similar data for use in the calculation of their production indices.
For the past 10 years, the firm has been preparing annual production indices for the East Fishkill and Poughkeepsie facilities. In 1998, in order to provide a more refined view of the waste-to-production indices, the firm began preparing quarterly waste- to-production indices. This increased level of reporting enabled facility managers to more accurately monitor changes in waste generation as correlated to production.
At the start of 2000, the IBM East Fishkill facility began implementing a new system which enables the division of Environmental Operations to begin charging for services back to the departments that utilize  them. Prior to 2000, Environmental Operations bore the financial burden of hazardous waste management including treatment, storage and disposal costs as an overhead function. Through the use of the Chargeback System developed by this  firm, IBM East Fishkill Environmental Operations can now charge  individual departments on a monthly basis for costs incurred for all waste management activities. These costs result from the treatment, storage and disposal of hazardous and nonhazardous wastes, environmental cleanup operations and decontamination/recycling of 55-gallon drums used to store hazardous chemicals.
The IBM East Fishkill Environmental Operations Division with assistance  from our firm is gearing up to begin charging for other services such as  discharges to the industrial waste and fluoride/heavy metal treatment  facilities, electrical service and water use (including deionized water, and high temperature hot water). The goal of the Chargeback System is to  provide additional incentive to individual departments who will now view waste minimization/pollution prevention efforts as essential cost-saving measures.
Federal/State/Corporate Reporting
The facility audits and waste reduction evaluations culminated in the preparation of draft and final hazardous waste reduction plans. Each facility plan presented a menu of waste reduction projects with implementation schedules, along with the preparation of cost estimates and a calculated percent of waste reduction projected through a previously established design year.
Federal and state regulations require the preparation of annual status reports/biennial updates for facilities that generate hazardous waste over a specific threshold. These reports combine waste-to-production indices for the past 10 years for each hazardous waste stream generated by the facilities as well as waste minimization project profiles prepared as a result of the facility audits and waste reduction evaluations. The project profiles present ongoing as well as completed waste minimization projects implemented at the facilities.
Training Programs
The firm has developed and implemented a variety of training programs for IBM including self audit/assessment training, preparation of promotional materials and recommending employee incentive programs. These programs increase  employeeawareness and sensitivity to hazardous waste reduction opportunities and provide incentives for recommending projects that have potential to reduce hazardous waste generation. These programs involve all levels of employees from upper level management to process engineers and manufacturing line workers to facility maintenance personnel.
The firm has been working with IBM for the past 12 years providing expertise and support in the ongoing process of developing and updating the waste minimization/pollution programs at the East Fishkill and Poughkeepsie facilities. These programs have contributed to significant reductions in quantities of hazardous waste generated in the manufacturing process operations leading to reductions in the cost of the hazardous waste management and ultimately the cost of goods sold.
See all Profiles related to Multimedia Environmental Compliance


For more information about this service, email us at findingsolutions@db-eng.com.