Nassau County- Corrosion Survey and Rehabilitation of Major Interceptors
Posted on March 11, 2014
Client: Nassau County Department of Public Works
Location: Nassau County, New York
Project Period: 2004- 2005
Project Cost: $500,000

Major Components
Evaluation of 60 miles of 18″ to 72″ interceptor sewer
Inspection of over 1,000 manholes/chambers
CCTV of 60,000 feet of interceptor sewer pipe
WRc Sewer Condition Methodology
Capacity, Assurance, Management, Operation and Maintenance (CMOM) Program
Project Description
The Nassau County Department of Public Works (DPW) operates and maintains more than 60 miles of interceptor sewer tributary to the Bay Park Sewage Treatment Plant. The system consists primarily of reinforced concrete pipe in sizes ranging from 18 inches to 72 inches in diameter. The majority of the pipelines were installed between 1949 and 1955. Recent pipe failure has been experienced as a result of corrosion to the pipe crown caused by hydrogen sulfide generation.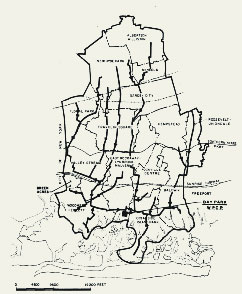 The Nassau County DPW selected Dvirka and Bartilucci Consulting Engineers (D&B) to investigate and evaluate the interceptor pipes and manholes, and identify structural deficiencies, infiltration sources and make recommendations for immediate and short-term remedial action to address the deficiencies.
The work under this project consists of inspecting and evaluating over 1,000 interceptor manhole/chamber castings, walls, benches, inverts, steps and pipe for defects, corrosion, leaks, pH, oxygen and hydrogen sulfide content; cleaning and televising 60,000 linear feet of interceptor pipe using digitally formatted closed-circuit television (CCTV) equipment; evaluation of interceptor sewer CCTV results utilizing WRc Sewer Condition Evaluation Methodology; maintaining street traffic and sewage flow; preparing interceptor line maps, maps which identify deficiencies, and maps which present the urgency of rehabilitation recommendations. The work also includes an evaluation of pipe and manhole rehabilitation methods, construction cost estimates, a Capacity, Assurance, Management, Operation and Maintenance (CMOM) Program outline, and providing all data in a format compatible with Nassau County's Geographic Information System.
See all Profiles related to Wastewater Management


For more information about this service, email us at findingsolutions@db-eng.com.