National Grid, Groundwater Treatment Building – Bayshore, New York
Posted on July 9, 2015
Client: National Grid
Project Type: Structural Engineering – Design/Construction Services
Project Period: 2007 – 2011
Project Cost: $3,000,000

Major Components
Geotechnical investigations
Cost estimating
Grade beam design
Matt foundation design
3,600 square foot steel frame design
Concrete block/brick masonry wall design
Arched overhead canopy system
Project Description
The project included the design and construction of a single story 3,600 square foot, steel frame and masonry building to house the on-site groundwater treatment system while meeting the Town of Islip Site Development requirements.
In addition to the building design, D&B Engineers and Architects, P.C. were tasked to develop the landscaping and utility layout for the 1.23 acre property.  This included integrating the landscaping and utility layout with the planned ozone injection well field that occupies the southernmost portion of the property.  D&B coordinated with National Grid's design team and local municipalities to furnish and provide the most feasible routing options for all utilities.  The site was re-graded to accommodate the building's finished floor elevations and existing adjacent property grades as well as to promote site drainage.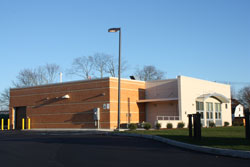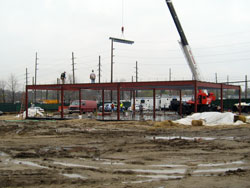 See all Profiles related to Structural


For more information about this service, email us at findingsolutions@db-eng.com.