New York City Department of Environmental Protection, Construction Management/Design Hurricane Sandy Pump Station Evaluations/Repairs Assignment
Posted on February 22, 2014
Client: New York City Department of Environmental Protection
Project Type: Construction Management/Design Hurricane Sandy Pump Station Evaluations/Repairs Assignment
Project Period: 2012 - 2014
Project Cost: $35,000,000 (estimated)

Project Description
Project Overview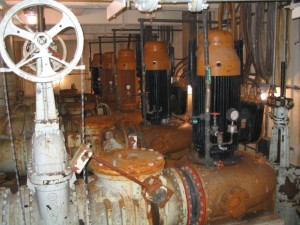 The impact of Superstorm Sandy on the NYCDEP collection system was severe. During the storm, fifty seven (57)  wastewater pumping stations (out of a total of ninety six (96)) failed. In the aftermath of the storm, thirty (30) of  these stations remained non-functional. The resulting environmental impact, imminent risk of disease and the 
discontinuity of crucial sanitary services required emergency response and immediate action. Many were  significantly damaged by flooding, including extensive damage to electrical systems. D&B provided an around the  clock effort to provide construction management/inspection and emergency coordination services. D&B  immediately mobilized a staff composed of administrators and inspectors that reported to a central operations  center situated at NYCDEP's Lefrak facility to coordinate and oversee the contractors' field activities. The thirty 30  stations rendered non-functional by Superstorm Sandy were returned to a minimal level of functionality within 84 hours of the storm's demise. This effort required mobilization of electricians, inspectors and engineers in an  environment devoid of cell phone service, electricity, and gasoline. Additionally securing scarce resources  (generators, Godwin pumps, miscellaneous equipment and fuel), and coordinated transportation of these materials  during this chaotic period, required true dedication and fortitude and many people working in unison. D&B has  received many praises from the DEP for this project.
Project Objectives
Provide full-time (24/7) CM support for temporary restoration of power to stormwater and wastewater pumping stations.
Provide field inspection of the installation and operation of emergency generators at multiple pumping stations.
Provide field inspection of electrical repairs performed to the various pumping stations to return them to service.
Provide rotational field oversight where pumping stations were in service but not able to operate automatically.
Provide and manage an operations command center to monitor the status of the various pumping stations and respond to issues.
Oversee and coordinate the delivery of fuel to field employees and contractors during fuel shortage.
Coordinate the delivery of diesel to generators at pumping stations.
Conduct repair assessments and develop detailed scopes of work and work orders for temporary and permanent repairs.
Provide CM services to support SA-1 construction operations including but not limited to resident engineering, inspection, project controls, management systems and safety.
Support alternatives evaluation of pump station repairs.
Provide assessments and develop detailed scopes of work for temporary pump around and temporary electrical services.
Provide assessments and assist with coordinating the efforts to prepare the already damaged pumping station  sites for Nor' Easter storm which occurred approximately 9 days after hurricane.
Provide one full-time (24/7) inspector at each station during the storm to monitor the condition, ensure the pump station continued to stay in service, and to relate this information and other updates regarding the pump station to the command center.
Perform periodic safety inspections at all of the pumping station sites where work is performed and develop EH&S inspection reports.
FEMA support and coordination.

See all Profiles related to Disaster Response and Recovery


For more information about this service, email us at findingsolutions@db-eng.com.