New York State Department of Environmental Conservation Former Bouchard Junkyard
Posted on June 16, 2015
Client: New York State Department of Environmental Conservation
Location: Former Bouchard Junkyard Site

Major Components
Remedial Investigation
Remedial Construction Management
Feasibility Study
Site Management
Pre-Design Investigation
Project Description
D&B Engineers and Architects, P.C. (D&B) was retained by the New York State Department of Environmental Conservation (NYSDEC) to complete environmental investigation and remediation services for the Former Bouchard Junkyard Site (Site No. 411014) located in New Lebanon, Columbia County, New York. The site operated as an automobile junkyard from the late 1950s through the late 1970s. Decades after closure of the junkyard, the NYSDEC received reports that drums containing polychlorinated biphenyl (PCB) oil had been improperly handled and disposed of on the property. Preliminary sampling verified PCB contamination at the site. As a result, NYSDEC listed the property as a Class 2 State Superfund Site and D&B undertook comprehensive remedial investigation, feasibility study, remedial design, construction management, and site management services.
The Former Bouchard Junkyard Site is an irregular shaped 17-acre parcel of land, which includes streams, ponds and a regulated wetland area. Residential properties adjoin the site to the north, east, and west. Agricultural lands are situated to the northwest. Six buildings are currently located at the site and are used for residential and commercial purposes. The remainder of the property is mostly open field. The site and surrounding properties are served by private water supply wells.
Remedial Investigation
D&B conducted a remedial investigation at the site to: determine the nature, extent and likely source(s) of contamination; ascertain whether complete routes of exposure existed with respect to site contamination; and, determine if remediation was necessary to protect human health and the environment.
The following tasks were performed as part of the remedial investigation:
Prepared a comprehensive site-specific work plan, including a summary of existing information; Sampling and Analysis Plan; Quality Assurance/Quality Control Plan: and, Health and Safety Plan.
Prepared a base map identifying site features and established a sampling grid across the entire site.
Performed site inspections to verify sample locations and evaluate site access.
Performed a geophysical survey to locate buried structures, utilities and debris.
Collected and analyzed more than 600 surface soil samples using United States Environmental Protection Agency validated RaPID Assay®, immunoassay test kits to delineate PCB contamination. A select number of samples were also sent for off-site laboratory analysis for confirmation of field results.
Collected and analyzed more than 65 surface soil, subsurface soil, sediment and groundwater samples to characterize the nature of site contamination.
Completed more than 35 test pits to confirm the locations of buried waste including tires, drums and miscellaneous automobile parts.
Performed real-time air monitoring of organic vapors, dust, oxygen, carbon monoxide, lower explosive limit and hydrogen sulfide throughout the drilling and test pit portions of the investigations.
Gauged and monitored water levels.
Performed in-situ aquifer testing.
Performed qualitative human health and ecological exposure assessments.
Prepared a Remedial Investigation Report documenting results of the remedial investigation, which was reviewed and approved by NYSDEC and the New York State Department of Health (NYSDOH).
Prepared and presented results of the remedial investigation to interested citizens at public information meetings.
Results of the sampling program indicated the following:
Stained soil, odors, sheens and debris were encountered at most test pit locations on-site.
Elevated levels of PCBs, pesticides, semi-volatile organic compounds, and metals were detected in surface and subsurface soil samples collected from the site and adjoining properties.
PCBs levels in soil exceeded Toxic Substance Control Act regulatory limits.
Lead levels in soil exceeded Resource Conservation and Recovery Act regulatory limits.
Elevated levels of PCBs, pesticides, semi-volatile organic compounds, and metals were detected in sediment samples collected from the wetland.
Groundwater and surface water were not impacted by site contamination.
The exposure pathways for soil and sediment are complete and there is the potential that additional pathways are complete or may become complete in the future.
PCB contamination at the site poses a threat to human health and the environment and remediation is required.
Feasibility Study
D&B prepared a Feasibility Study for the site, which was approved by the NYSDEC and NYSDOH. The report included site background information, identification of remedial action objectives, identification and screening of remedial technologies, development and preliminary evaluation of remedial alternatives, detailed evaluation of alternatives, presentation of the recommended alternative, and capital and operation and maintenance costs for each remedial alternative.
The recommended alternative initially included soil washing. However, this remedial alternative was later changed to excavation and off-site disposal due to limited availability of vendors, New York State bidding requirements, and lowering of the cost associated with excavation and off-site disposal.
Pre-Design Investigation

Field work
The purpose of the pre-design investigation was to provide site specific information to refine the horizontal and vertical extent of PCB contamination and obtain additional information required for the design of the selected remedial alternative. This included the identification and characterization of areas to be classified and managed as hazardous waste and PCB remediation subject to the requirements of TSCA. Field investigation work at the site included advancement of soil borings, water level monitoring and sampling and analysis of soil, sediment, groundwater, and surface water.
Wetland Permitting and Sampling
The southeastern portion of the Former Bouchard Junkyard site falls within the boundaries of both state and federally regulated wetlands. As a result, all work within the wetland area, as well as 100-feet beyond the extent of the wetland area, was required to be conducted in accordance with NYSDEC and US Army Corps of Engineers (USACE) permits. D&B properly delineated the extent of the wetland area and created a wetland restoration plan to mitigate the overall disturbance to the wetland area as a result of sediment excavation.
To measure the success of the wetland restoration after completion of the remedial construction, D&B conducted pre excavation sampling in the wetland area to quantitatively define the hydrology, soils and vegetation in both areas planned to be disturbed and not to be disturbed as part of the remedial construction. Staff gauges were installed to measure the water levels throughout the wetland area, soil samples were collected to assess soil parameters and a vegetative analysis was completed by a wetlands specialist to document current vegetative growth and species population density.
Remedial Design

D&B was responsible for the preparation of remedial design documents for the excavation and off-site disposal of more than 85,000 tons of PCB contaminated soil and sediment.
D&B provided engineering and technical support for the preparation of plans, specifications, and contract documents for clearing and grubbing, removal of debris and other material, soil and waste excavation and handling, waste transportation and disposal, wetland remediation and restoration, dewatering, documentation sampling, backfill and compaction, installation of a demarcation layer, paving, landscaping, monitoring well construction and abandonment, worker and community air monitoring, field engineering and site restoration.
Due to the large and complex nature of the site, a significant amount of coordination was required between D&B and several NYSDEC bureaus to accurately identify and define all aspects of the work. This included: identifying all affected neighboring property owners and obtaining required temporary easements; identifying all trees to be protected or removed and replaced, including an applicable replacement species; preparation of a Joint Application for Permit for a NYSDEC Freshwater Wetlands Permit and two USACE Nationwide Permits (33 and 38); identification of any underground utilities and aboveground structures and utilities affected by the performance of the work; and identification of dewatering requirements for work within the wetlands.
D&B was responsible for assisting the NYSDEC with pre-award services in conjunction with the competitive bidding of the remedial construction. In this capacity, D&B performed the following tasks:
Technical assistance at the on-site pre-bid meeting and site walkover, including presenting a description of the work to be performed and responding to questions from bidders. In addition, addenda were prepared to respond to questions raised at the pre-bid meeting.
Reviewed the apparent low bidder's 5-day and 14-day submittals for compliance with the requirements of the Contract Documents and provided the NYSDEC with written comments to each submittal provided. Submittals reviewed included: off-site disposal facility permit and approval; Work Plan; Health and Safety Plan; Construction Quality Assurance/Quality Control Plan; Sampling and Analysis Plan; Contractor's qualifications package; Preliminary Schedule; and Bid Breakdown.
Assisted the NYSDEC with the bid review process by tabulating the bids and reviewing the pre-award submittals.
Remedial Construction Management
Generally, the remedial construction activities at the Former Bouchard Junkyard site included the excavation and off-site disposal of 59,500 tons of non-hazardous PCB-contaminated soil, 16,000 tons of TSCA regulated PCB-contaminated soil, 1,100 tons of RCRA/TSCA regulated PCB-contaminated soil, 5 tons of scrap metal, and 55 tons of tires. In addition, 625,000 gallons of construction water was also collected, treated, sampled and discharged to an on-site infiltration basin. Site restoration activities included placing topsoil and seed across the entire site, restoration of residential properties, and planting more than 475 trees.
D&B was responsible for full-time construction oversight for the duration of the project. In this capacity, D&B was responsible for the following: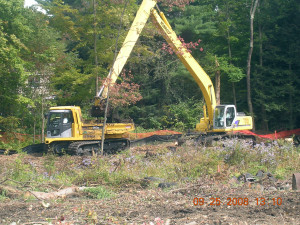 Coordination of a pre-construction meeting to initiate the construction phase of the project. This meeting focused on the Contractor's schedule, format for shop drawing submissions, payment requisitions, reports and project correspondence, and review of the status of submittals and procedures for communications.
Review of shop drawings and submittals for compliance with the requirements of the Contract Documents throughout the duration of the project, including, but not limited to, the following: Storm Water Management Plan; Wetland Restoration Plan; Wetland Monitoring Plan; Shop Drawings for the installation of a temporary truck weigh scale, temporary fencing and temporary utilities; proposed site plans; preliminary, intermediate and as built surveys; endpoint soil, potable water supply and groundwater sample results; certificates of materials compliance; and QA/QC test results.
Full-time oversight of all work performed at the site and coordination of and attendance at bi-weekly project progress meetings with the Contractor, applicable Subcontractors and the NYSDEC.
Collection and analysis of excavation endpoint samples split with the contractor to evaluate and document the effectiveness of the work.
Preparation of complete and detailed records and reports related to the remedial activities, including daily inspection reports and construction photographs.
Review of the construction work for substantial completion and final completion.
Preparation and presentation of results of the remedial activities to interested citizens at public information meetings.
Preparation of a Final Engineering Report and Site Management Plan.
Site Management

Following completion of the remedial construction activities, D&B performed site management activities including periodic site inspections, wetland monitoring, water level gauging, and groundwater and surface water sampling. Based on the data collected from the site management activities, D&B determined that the site cleanup activities achieved the remedial action objectives for soil, sediment, surface water and groundwater at the site. As a result, the site was reclassified to a Class 4 State Superfund Site, meaning the site has been properly closed out but requires site management to properly maintain the remedy.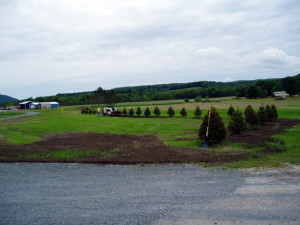 See all Profiles related to Environmental Investigation and Remediation


For more information about this service, email us at findingsolutions@db-eng.com.