New York City Department of Environmental Protection, Port Jervis Wastewater Treatment Plant Upgrade
Posted on July 17, 2014
Client: New York City Department of Environmental Protection
Location: Port Jervis Water Pollution Control Plant
Project Period: 2003- 2008
D&B Project Manager: Paul Antonio, P.E.
Project Cost: $20,000,000

Major Components
Pumping Stations
Screening and Grit Removal
Biological Nitrogen and Phosphorus Removal
Sludge Handling Facility
Maintenance of Plant Operations (MOPO)
Reconstruction of Final Tanks
UV Disinfection
Project Description
Project Overview
The project includes the upgrade and replacement of the existing 2.5 mgd treatment facilities including the replacement of the trickling filters with a new biological process that can remove nitrogen and phosphorus at reduced chemical cost (sequencing batch reactors), the addition of tertiary filtration and the installation of UV disinfection. The sludge handling will be replaced with gravity thickeners, aerobic digestion and belt filter press for dewatering.
Specifically, as it relates to the Wards Island project, the Port Jervis project includes reconstruction of the final tanks to raise the drives and tank sides above the current flood elevation. This project is similar in scope to the Wards Island project in that they will also be replacing the collector system. The Port Jervis project will also be replacing influent sluice gates to the trickling filters. This project follows the current EH&S policies of the NYCDEP, all engineers will have the ten hour safety training as required by the Department. Our Quality Assurance and Quality Control is following the Departments latest Standard Operating Procedures. We are at Draft Facility Design at this moment on this project.
D&B Project Responsibilities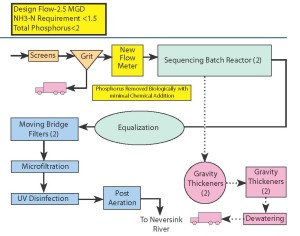 D&B's responsibilities include coordination of Delaware River Basin Commission and NYSDEC regulators, planning, design, bidding services, and engineering services during construction.
Modeling of effluent discharge
Upgrade of 3 pumping stations
New screening and grit removal facilities
Construction of essentially a new 2.5 mgd treatment plant while maintaining operation at the existing plant
Upgrading existing facilities for 25 year and 100 year flood protection
See all Profiles related to Wastewater Management


For more information about this service, email us at findingsolutions@db-eng.com.