Port Washington Water District, Hydraulic Modeling of Distribution System
Posted on July 27, 2015
Client: Port Washington Water District
Location: Port Washington, New York
Project Type: Hydraulic Modeling of Distribution System
Project Period: 2013
D&B Project Manager: William D. Merklin, P.E.
Project Cost: $34,000

Project Description
D&B provided engineering services for the preparation of a hydraulic model of the Port Washington Water District (PWWD) distribution system. The service area of the District is approximately 6.0 square miles and serves a population of approximately 40,000 through 9,256 service connections. The District maintains three pressure zones which are supplied with water by twelve wells.
Pressure Zone No. 1, the High Zone, is located in a low lying portion of the service area and is fed by two pressure reducing valves. During periods of high demand, such as a fire event, the areas of the distribution system feeding the pressure reducing valves have experienced low pressure and rusty water conditions. The purpose of the hydraulic model evaluation was to evaluate alternatives to correct these problems.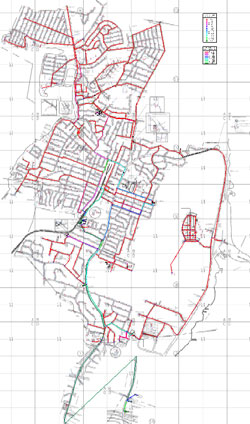 D&B evaluated three scenarios and recommended the best scenario based on feasibility, performance and cost. Ultimately, a 600,000 gallon ground level storage tank and booster pumping station was recommended for construction within the High Zone. This will allow the tank to be filled at a low rate during times of low demand. Periods of high flow can be supplied from the booster pump without the need for the pressure reducing valves to open, thereby resolving the pressure and water quality issues in the adjacent pressure zones.
See all Profiles related to Water Supply Services


For more information about this service, email us at findingsolutions@db-eng.com.