Port Washington Water District, Manhasset Isle Water Main Improvements
Posted on July 27, 2015
Client: Port Washington Water District
Location: Port Washington, New York
Project Type: Manhasset Isle Water Main Improvements
Project Period: 2012 - 2013
D&B Project Manager: Christopher W. Francis
Project Cost: $3,285,000

Project Description
D&B provided engineering services for the design and construction management of approximately 14,500 feet of 8" diameter water main for the Port Washington Water District in Port Washington, New York. The work was performed in a primarily residential area know as Manhasset Isle.
The project is in a relatively low-lying area adjacent to Manhasset Bay. Therefore, high groundwater table and poor soil quality were items of concern. In the lowest areas, the work was performed during low tide. Select Fill was imported from off-site for bedding of the pipe. Upon completion of pipe installation, all affected roadways were reconstructed.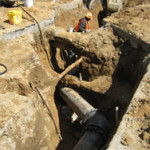 D&B prepared contract drawings and specifications for the project. Construction phase services included office services and field inspection services. D&B assisted the District in obtaining approvals from the Nassau County Department of Health (NCDH) for construction and operation of the main.
See all Profiles related to Water Supply Services


For more information about this service, email us at findingsolutions@db-eng.com.