Port Washington Water District – Nitrate Treatment with Ion Exchange for Well 4
Posted on June 17, 2012
Client: Port Washington Water District
Location: Port Washington, NY
Project Type: Nitrate Treatment with Ion Exchange for Well 4
Project Period: 2012 - Present
D&B Project Manager: Philip R. Sachs, P.E.
Project Cost: $2,493,000

Project Description
D&B provided engineering services for the design and construction of an ion exchange system for nitrate removal at Well 4 in  the Port Washington Water District. The system has a capacity of 2.0 MGD and was designed with expansion ability to address possible future increases in nitrate concentration.
D&B selected the Layne Christensen Co. Inc. Advance Amberpack Ion Exchange System. The system was pilot tested and a full scale system was designed. The full scale system includes the ion exchange vessels, brine saturator, waste recycling and waste disposal systems along with the support equipment for each. The ion exchange media is regenerated on site using a brine solution. The system minimizes the waste production by partially recycling some of the waste water for subsequent  regeneration cycles.
The wastewater from the regeneration process has high sodium chloride, nitrate and sulfate concentrations and therefore must discharged to the sewer system for disposal. The Port Washington Water Pollution Control District (PWWPCD) expressed  concerns about the impact of the waste on the wastewater treatment plant process. D&B designed a waste disposal system that included a force main to discharge to the sewer system as well as a holding tank and pump out system to allow the waste to be hauled off site for disposal. D&B assisted with obtaining the necessary connection permit from PWWPCD as well as a permit to haul the waste to a Nassau County wastewater treatment facility.
Due to the close proximity of the facility to a residential neighborhood, special attention was given to the architectural design as well as the landscaping design. The new structure was located on site to minimize the visual impact to the neighboring  properties.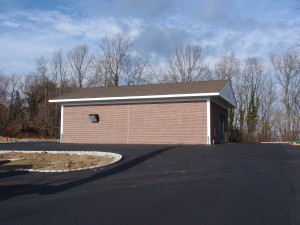 A preliminary design report was prepared summarizing the results of the pilot test and developing the requirements for a full scale treatment system. The report and the detailed design were submitted to and approved by the Nassau County Department of Health (NCDH) for construction. Construction phase services included office services and field inspection services. Startup assistance was provided upon completion of the construction work. D&B assisted the District in obtaining approvals from NCDH for operation.
See all Profiles related to Architecture


For more information about this service, email us at findingsolutions@db-eng.com.