Subsurface Investigations In Urban Environments
Posted on June 12, 2015
Project Description
Introduction
D&B Engineers and Architects, P.C. has been retained by a number of both private and public clients to complete subsurface investigations in highly urbanized areas such as New York City as well as smaller cities throughout New York, New Jersey and Connecticut. Through this experience, D&B has developed protocols and procedures specifically designed to address the unique aspects of investigating and remediating sites in urban environments.
Some of the challenges associated with this highly specialized work include a high population density in work areas, limited working space and numerous active subsurface utilities. In addition, special attention must be paid to completing work in strict accordance with the agreed-to schedule due to the fact that the work often requires blocking streets, sidewalks or building entrances. In order to prevent accidents; roadways, sidewalks and other areas utilized for vehicular and pedestrian traffic must be reconfigured in an organized and safe manner during the completion of field activities. After completing the work, these areas need to be restored to "pre-work" conditions as quickly as possible to minimize the disruption of vehicular traffic, pedestrian access and property use. Completing intrusive sampling activities in city streets and sidewalks typically requires obtaining multiple permits from various city agencies. Such permits often require the work be performed during "off-hours" such as on weekends or during the early morning hours. Scheduling work is always a critical concern.
Specialized Sampling Equipment
Very often, due to limited work areas, specialized equipment is required for sampling. In the past, D&B has used skid mounted drilling rigs, track or tripod mounted Geoprobe units and in some instances hand augers for the collection of samples located in basements, garages and within office buildings. An example of a small footprint sampling unit is illustrated in the photo to the right.
Work Areas/Exclusion Zones
While working in areas of high population density, D&B maintains strict adherence to defining work areas and exclusion zones in order to avoid potential accidents. The flow of personnel through exclusion zones is closely monitored and controlled by either the Field Operations Manager or Field Team Leader assigned to the project. The establishment of the exclusion zone helps ensure that unauthorized personnel are kept at a safe distance from the work activities, thereby minimizing the potential of exposure to any contaminants.
Air Monitoring Programs During Intrusive Sampling Activities
Air monitoring programs are an essential element of conducting field investigations in urban areas. As part of D&B's air monitoring programs, continuous monitoring is typically conducted during all ground intrusive activities such as test pits, advancing soil borings, vapor intrusion studies and monitoring well installations, as well as during various remedial activities. The objective of the air monitoring program is to provide a measure of protection for the downwind community from potential contaminants that may become airborne as a direct result of investigative and remedial work activities. This includes such off-site receptors as residences and businesses, as well as on-site workers not directly involved with the subject work activities.
Air monitoring primarily consists of volatile organic compound (VOC) monitoring and dust particulate monitoring. Typically, two air monitoring stations are established, including one upwind and one downwind of the sampling activity. In some cases, in addition to the upwind and downwind stations, air monitoring stations are positioned along the site property boundary to ensure VOCs or dust are not migrating off-site.
Underground Utility Clearance
Instances where underground utilities may be encountered during subsurface investigations are greatly increased in urbanized environments. Underground utilities can include telephone and electric cables, fiber optic cables, natural gas piping, water mains, steam pipes and services, as well as storm water and sewer pipes. In addition, there may be various abandoned underground utilities in these areas. Therefore, strict adherence to underground utility clearance protocols is essential in these areas to eliminate or substantially reduce the risk of encountering a subsurface utility while performing intrusive activities. The key activities that comprise this process consist of: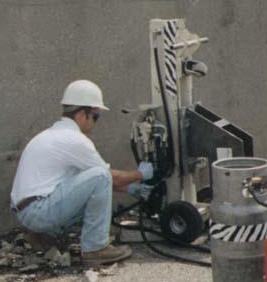 Obtain Plates, Drawings and Maps: The review of utility maps and drawings is a preliminary step to determine the type, size and location of utilities in the vicinity of the work site.
Utility Markout: In accordance with state and local laws, D&B requires all its subcontractors performing intrusive work (drillers, excavators, etc.) to arrange for all underground utilities to be marked in the field prior to starting work. If the work is to be undertaken over an extended period of time, the subcontractor is required to arrange for the markout of utilities every 2 weeks.
Site Walk: After completion of the activities outlined above, a site walk is conducted by the project manager with participation from the property owners, contractors (drillers, geoprobes, excavators, etc.) and facility managers. A review of all the planned locations where intrusive activities will be performed is conducted.
Utility Clearance Using Geophysical Techniques: D&B commonly utilizes geophysical survey subcontractors to confirm the location of marked utilities or to identify other unmarked utilities. These subcontractors employ a variety of geophysical instrumentation, including:

Ground Penetrating Radar
Magnetometers
Electromagnetic Pulse Transmitters/Receivers

Utility Clearance Test Pit/Soft Dig: In some cases, following completion of the focused utility survey, utility clearance test pits are excavated to at least 5 feet using hand tools or by a vactor truck (commonly referred to as "soft dig") to further ensure a utility is not located in the area to be excavated or drilled. Even after undertaking these precautions, excavations and soil borings proceed slowly enough so that any obstruction/structure encountered can be evaluated as active or inactive and to confirm that the structure is not a utility.
The following is a list of investigations that the firm has recently undertaken in urban areas along with a brief description of the completed project:
Consolidated Edison Company of New York, Inc.
West 42nd Street Former Manufactured Gas Plant Site Characterization
The firm was retained by the Consolidated Edison Company of New York, Inc. to investigate and remediate a former manufactured gas plant (MGP) located on 42nd Street in Manhattan, New York. The scope of work focused on locating potential MGP residuals at the site and to develop an understanding of the site geology, groundwater and the existence of any structural remnants of the former MGP. The subsurface investigation included excavating 9 test pits, advancing 29 soil borings and installing 6 monitoring wells. Due to the site's location, the subsurface investigation had to be completed in parking areas, parks and city streets.
Dormitory Authority of the State of New York – Bronx Psychiatric Center

As part of a Preliminary Site Assessment to determine the extent of PCB contamination in soil, samples were collected from beneath the transformer rooms of the primary building facility. Split spoon core barrel sampling was conducted at approximately 30 locations to collect samples to depths of up to 5 feet below concrete room floors, which varied in thickness from 8 to 18 inches. Access to the rooms was severely limited and mobility within the rooms was limited by the transformers and switching equipment. The sampling equipment was comprised of portable concrete coring machines and pneumatic core samplers and retrieval tools, which were portable enough to be transported down to the rooms and were designed in a manner that allowed them to be manipulated in the very limited space within the rooms. Another primary concern for the sampling program was potential utilities under and in the vicinity of the rooms. To investigate the potential presence of utilities, D&B electrical and structural engineers searched facility records and microfiche files and obtained, reviewed and assessed facility drawings. The sampling program was conducted successfully with no incidents.
Consolidated Edison Company of New York, Inc.
Hudson Avenue Generating Station Site Investigation
The firm was retained by the Consolidated Edison Company of New York, Inc. to develop and implement a Site Investigation Work Plan for the Hudson Avenue Generating Station located in Brooklyn, New York. The Work Plan included an intrusive scope of work that incorporated the findings of a preliminary field investigation in conjunction with an initial information review. As part of the subsurface investigation, a total of 35 soil borings and 16 monitoring wells were installed within the Con Edison facility. Due to the numerous underground utilities located throughout the facility, all borings and wells had to be cleared using a vactor truck.
NYC Department of Environmental Protection Site Investigation
and Remedial Alternatives Study, Barretto Point Site, Bronx, New York
The Barretto Point Site is a 13-acre property planned for redevelopment by the City of New York. The site was formerly used for industrial purposes, including a metal working facility, a sand and gravel yard, an asphalt plant, a paint and varnish manufacturer, a boat yard and a food products manufacturer. The firm completed the Site Investigation and Remedial Alternatives Study as part of New York City's Brownfield Program with funding from the New York State Clean Water/Clean Air Bond Act Environmental Restoration Projects program. This project included the completion of 24 test pits and test trenches, 38 soil borings, 5 temporary wells and 5 permanent monitoring wells.
City of Yonkers Brownfield Program – Site Assessment of Multiple Urban Properties
This project involved the performance of Site Investigations and preparation of a Remedial Alternatives Report for three properties in the City of Yonkers. The project was funded by the New York State Department of Environmental Conservation through a Targeted Brownfields Site Assessment grant from the United States Environmental Protection Agency. This project included the completion of 6 soil borings and 4 monitoring wells.
City of Stamford Brownfield – Site Assessment, Stamford Connecticut
This project was undertaken for the City of Stamford Land Use Bureau, Planning Division and involved the performance of a Phase II ESA/Geotechnical Investigation at City-owned properties in Stamford, Connecticut. Intrusive sampling activities associated with these Phase II ESAs included 18 soil borings and the installation of 18 temporary monitoring wells.
City of Utica, New York – 1000 Columbia Street Site
D&B conducted a Site Investigation at a former taxi garage in downtown Utica. The site consists of a 50 feet by 80 feet parcel of land occupied by a 30 feet by 40 feet building and surrounded on three sides by streets and overhead utilities. The investigation involved demolition of the building to allow access for a backhoe and a direct push drill rig to collect subsurface soil samples and install monitoring wells. Six borings and three monitoring wells were completed to assess subsurface conditions. Four test pits were excavated to locate a hydraulic lift, underground storage tanks, fuel pump piping and a wash pit. An underground storage tank removal was conducted during a separate field mobilization and involved careful planning to utilize the limited available space on-site to excavate three 5,000-gallon tanks, stage and clean the tanks for off-site removal, and stage and characterize contaminated soil prior to off-site removal.
City of Utica, New York – 26-28 Whitesboro Street Site
D&B conducted a Site Investigation on contiguous vacant lots located in downtown Utica. The lots formerly contained a hotel and associated buildings. The buildings were demolished prior to the investigation; however, the foundations and underground utilities remain in-place. The investigation involved a geophysical survey to locate foundation walls and buried utilities. Twelve surface soil samples were collected from various areas on the vacant lots. Twelve subsurface borings and 12 temporary monitoring wells were installed using truck mounted direct push drilling equipment.
See all Profiles related to Environmental Investigation and Remediation


For more information about this service, email us at findingsolutions@db-eng.com.