Town of Brookhaven, Engineering Design and Construction Management Services Superstorm Sandy: Coastal Infrastructure Mitigation Projects
Posted on April 22, 2015
Client: Town of Brookhaven
Location: Suffolk County, New York
Project Type: Engineering Design and Construction Management Services Superstorm Sandy: Coastal Infrastructure Mitigation Projects
Project Period: January 2013 - Ongoing
Project Cost: $3,000,000

Major Components
Performed site investigations and damage/repair assessments for each of the sites
Developed detailed damage assessment reports
Provided repair recommendations which considered alternate methods of
protection with detailed construction cost estimates
Provided assistance for coordination with FEMA reimbursement
Develop contract plans and specifications to the Town for approval
Construction Management and Inspection
Project Description
D&B Project Responsibilities
On October 29, 2012, Hurricane Sandy—a Category 2 storm at its peak—wreaked havoc on parts of the US east coast including the Town of Brookhaven, New York. The hurricane caused severe and widespread damage throughout Brookhaven.
D&B Engineers and Architects, P.C. was selected by the Town of Brookhaven to assess the damage  incurred at several sites along it's shorelines due to Superstorm Sandy: stormwater drainage outfall sites   located at Hallock Landing Road in Rocky Point, Sills Gully Road in Shoreham, Riverhead Drive in Sound Beach, and Grandview Drive in Blue Point.
It was our objective to properly document the damage incurred due to this storm and assist the Town with FEMA reimbursement. In addition, D&B provided engineering and construction management services to  improve these sites.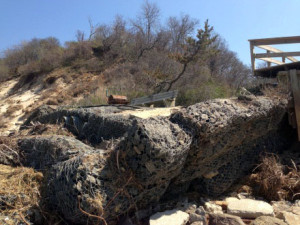 See all Profiles related to Disaster Response and Recovery


For more information about this service, email us at findingsolutions@db-eng.com.