Town of Hempstead Department of Water, Transmission Main for Blending of Wells 5 and 10
Posted on July 27, 2015
Client: Town of Hempstead Department of Water
Location: Hempstead, New York
Project Type: Transmission Main for Blending of Wells 5 and 10
Project Period: 2010
D&B Project Manager: William D. Merklin, P.E.
Project Cost: $1,173,000

Project Description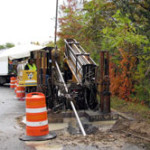 D&B provided engineering services for the design and construction of approximately 6,200 feet of water main for the Town of Hempstead Department of Water in Hempstead, New York. The work was primarily on residential streets within the Town's service area. The existing water mains had reached their useful life and required replacement. The work was performed on a fast track basis in order to coordinate the asphalt restoration work with scheduled road improvements work to be performed by others.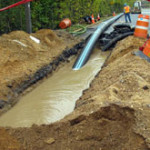 Significant difficulties during design and construction included the location of existing utilities in dense clay soil conditions. Standard utility locating equipment was not able to penetrate these conditions. D&B worked with the Town and the Contractor to locate the existing utilities using test holes and hand digging techniques. The test hole exploration was performed prior to the commencement of the work and modifications to the design drawings were prepared quickly in order to minimize Contractor down time.
D&B prepared contract drawings and contract specifications for the project. Construction phase services included office services and field inspection services. D&B assisted the Town in obtaining approvals from the Nassau County Department of Health (NCDH) for the construction and operation.
See all Profiles related to Water Supply Services


For more information about this service, email us at findingsolutions@db-eng.com.