Town of North Hempstead, PWWCD, New York Biological Nutrient Removal (BNR) Demonstration Project Improvements
Posted on July 17, 2014
Client: Port Washington Water Pollution Control District
Location: Town of North Hempstead, New York
Project Period: 2003 - 2006
Project Cost: $500,000

Major Components
Planning
Permitting
Clean Water/Clean Air Bond Act Assistance
3,000 Gallon Methanol Storage Tank
Leak and Level Detection Systems
Methanol Metering Pumps
Chemical Truck Transfer Containment Pad
Tri-Lobe Positive Displacement Aeration Blower
Return Activated Sludge Pump
Variable Frequency Drives/Controls
BNR Tank Baffle Curtain System
Caustic Storage Tank System Modifications
Maintenance of Plant Operations (MOPO)
Electrical Systems
Site Restoration
Project Description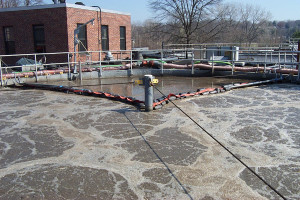 The project includes improvements to the Biological Nutrient Removal (BNR) Demonstration Project to provide process and operational enhancements to the BNR process and improve flexibility to consistently, reliably and cost-effectively reduce the wastewater treatment plant's nitrogen loadings to the Long Island Sound. The project received state grant assistance.
The project includes a methanol storage and delivery system, larger capacity aeration blower with variable frequency drive (VFD), return activated sludge pump with VFD, custom fabricated nylon baffle curtain to separate aeration and anoxic zones, modifications to caustic storage tank system, chemical cost reimbursement and miscellaneous supplies.
D&B Project Responsibilities
D&B's responsibilities included project planning, NYS Grant Applications and Project Work Plan, permitting, design plans & specifications, bidding services, construction management services, and start-up & training services.
See all Profiles related to Wastewater Management


For more information about this service, email us at findingsolutions@db-eng.com.