Village of Scarsdale, New York Sheldrake Flood Mitigation and Improvement Project
Posted on December 19, 2014
Client: Village of Scarsdale, New York
Location: 2014
Project Type: Sheldrake Flood Mitigation and Improvement Project
Project Period: $500,000

Project Description
D&B Engineers and Architects, P.C. was retained by the Village of Scarsdale to develop a stormwater study and hydraulic model  of the Sheldrake Drainage Basin. The HEC/RAS model was built using HydroCAD and was used to outline certain critical areas to  help mitigate flooding within the Sheldrake Drainage Basin. The Sheldrake stream course has very little slope throughout the  tributary area and ladened with sediment deposits this causes poor storm water conveyance and regular flooding.
D&B developed innovative methods to help mitigate flooding. The primary strategy included the conversion of an ornamental  pond into a true stormwater detention pond. Construction consisted of modifying an existing outlet structure from Cayuga  Pond so potential volume within the ponds existing limits could be used as a detention basin. This was accomplished with the  addition of two sluice gates to allow the existing orifices sizes to be adjusted or closed depending on the storm intensity. Using  the storm water model, the optimum orifice size could be used to achieve maximum detention within Cayuga Pond.
Cayuga Pond outlets into the Sheldrake stream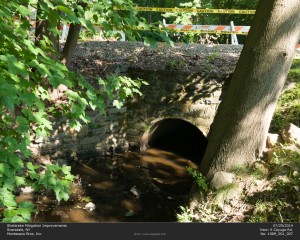 course. This stream course was also modeled accordingly and was found to  have several choke points along with impediments in flow due to sediment build up that prevented positive flow throughout. Over 1,200 feet of stream course was de-silted and the original stream banks were stabilized. Over 160 cubic yards of  accumulated sediment material was removed. In addition to cleaning the stream course, over 600 feet of culverts were  inspected and cleaned ranging in sizes 18 inches to 48 inches.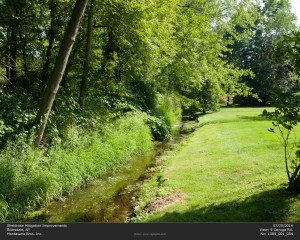 The main artery connecting the open watercourse to the downstream piped drain network was an existing CMP pipe running  underneath Cayuga Road. This culvert was replaced with a 4' by 8' concrete drainage structure. This structure's conveyance  design was maximized using the storm water model. The stormwater model and field investigation revealed that flows could be  balanced better between the stream course and existing culverts with the addition of a new 24" culvert by-pass channel. This  culvert helped to balance the flows to adequately convey storm water. The $500,000 was completed on time and budget in  2014.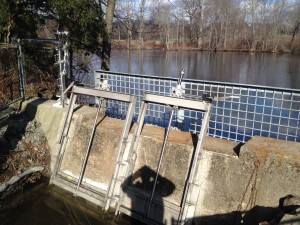 See all Profiles related to Civil Engineering


For more information about this service, email us at findingsolutions@db-eng.com.