Village of Scarsdale, New York South Fox Meadow Brook Stormwater Improvement Project
Posted on October 19, 2012
Client: Village of Scarsdale, New York
Location: Scarsdale, New York
Project Type: South Fox Meadow Brook Stormwater Improvement Project
Project Period: 2010 - 2012
Project Cost: $1,900,000

Project Description
Over the last 40 to 50 years, there has been increasing development in the Village of Scarsdale with a corresponding increase in  excessive runoff rates and resultant flooding in certain areas. This phenomenon has been coupled with a drainage  infrastructure that may be a century old in some locations and undersized for the current runoff volumes.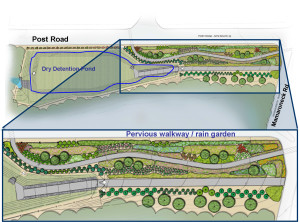 In 2009, D&B completed a Comprehensive Stormwater Management Plan and developed a long term Capital Improvement Program for water quality and flood mitigation improvements. The South Fox Meadow Drainage Basin was identified as a critical flooding location in the Bronx River Basin. The South Fox Meadow Brook originates in White Plains and drains an area of approximately 900 acres to the Bronx River, discharging the flow immediately south of Bronx River Parkway Exit 14.
The scope of work for this project involves the design of a system to address drainage issues within the South Fox Meadow Drainage Basin and to reduce the adverse impacts of excessive uncontrolled runoff. Dry detention facilities allow for the retention of storm water to help reduce run off rates and attenuate peak flows. Retention of storm water in urban and dense suburban areas remains one of the more effective flood mitigation techniques provided adequate land is available for the construction of such systems. A new constructed wetland (approximately 1 acre in area) with native wetland plants and an 3,000 square foot water quality rain garden was also constructed. These water quality measures enhance run off treatment through natural systems. Finally, newly designed landscaping is proposed for each site.
Project Elements include: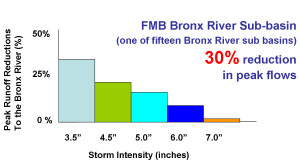 Construction of a 10 acre-feet dry detention pond in George Field Park reduces head water peak run off flows by 70% in 3.5 inches of rain.
Construction of a 3 acre-feet dry detention pond in Copper Green reduces peak run off flows by over 50% in 3.5 inches of rain.
Combined, the system reduces flows to the Bronx River by almost 30% in 3.5 inches of rain.
A 40,000+ square foot constructed, native wetland is planned for the George Field Park Area.
Over 500 feet of grassy swale is planned for the Greendale Avenue to treat road run off.

A 3,000 square foot rain garden is planned for the Cooper Green location to treat sheet flow run off in that watershed area.
50+ new trees will be planted throughout the project area.
Over 2,000 new plantings are installed to enhance the natural landscaping.
Flexi-Pave® will be used to replace any disturbed existing walkways and for proposed access areas. Flexi-pave is a 100%  pervious surface manufactured from recycled tires and is a superior "green" product endorsed by the NYSDEC. Thus it ensures no increase in impervious surface despite the addition or reconstruction of pedestrian walkways or access areas.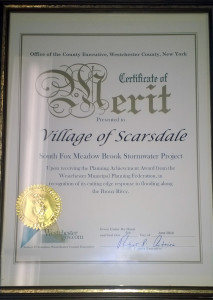 The project was partially funded by Westchester County under the County's Flood Mitigation Program. The project meets the objectives set forth in the Village-wide Comprehensive Storm Water Management Plan (Plan) and the Bronx River Watershed Assessment and Management Report and the design of the improvements are consistent with the New York State Department of Environmental Conservation (NYSDEC) Better Site Design and Stormwater Management Design Manual, and incorporate "Green Infrastructure" principles where prudent.
See all Profiles related to Civil Engineering


For more information about this service, email us at findingsolutions@db-eng.com.