Village of Valley Stream, West Valley Stream Boulevard Concrete Culvert
Posted on June 19, 2012
Client: Village of Valley Stream
Project Type: West Valley Stream Boulevard - Concrete Culvert
Project Period: 2011 - 2012
Project Cost: $2,000,000

Major Components
Design
Bid Phase
Construction Services
Project Description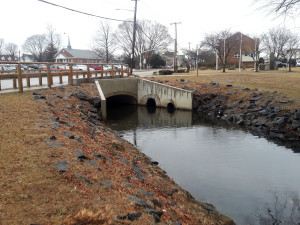 The project is located on West Valley Stream Boulevard, east of the intersection with Payan Avenue, in the Incorporated Village of Valley Stream. The site is one of two locations where Valley Steam crosses underneath West Valley Stream Boulevard before it ultimately reaches Mill Pond, south of Sunrise Highway. The Village had determined that the replacement of this structure was an emergency due to its exposed reinforcing steel from within the reinforced concrete slabs, active settlement and soil loss from the road bed and the cracking in the structural members. The culvert and its supporting wingwalls had undergone further collapse due to the harshness of the past winter, in addition to the spalling and exposure of structural elements already experienced. The West Valley Stream Boulevard sidewalks were closed to pedestrian traffic to avoid injury to the public and a separate walkway has been established by the Village using jersey barriers for pedestrian protection. As a result, immediate rehabilitation of this culvert was necessary.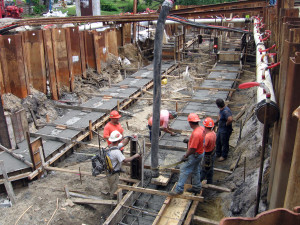 The project consisted of constructing a new 12 foot wide by 4 foot high by 60 feet long precast concrete culvert adjacent the existing collapsing culvert. The completed culvert has a natural bottom, and is a single barrel. The existing culvert was used as the stream "bypass" during the construction of the new culvert to allow normal stream flow and storm flows to pass the site without interfering with the new construction. D&B considered constructing the new culvert in the same location as the existing one, however a separate and adjacent bypass structure would have to be constructed in the adjacent area adding unnecessary costs and extending the construction schedule. Using this adjacent area to construct the new culvert also provided a larger radius curve for the stream, reducing the stream bank scour during both base and storm flows.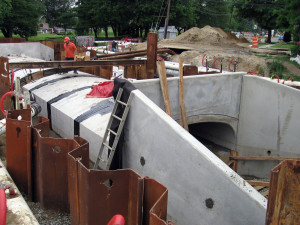 Of particular concern for the construction of the project was the existence of a large bank of active fiber-optic cables serving a large area of Nassau County. The shallow cables were temporarily suspended during construction, and the precast culvert installed underneath. The construction was performed without damage to any of the crossed cables or utilities. Following opening of the new culvert to stream flows, decommissioning of the old structure was undertaken and the adjacent areas were re-graded, stabilized and restored.
See all Profiles related to Civil Engineering


For more information about this service, email us at findingsolutions@db-eng.com.