Water Authority of Great Neck North, Grace Avenue Water Main Improvements
Posted on July 27, 2015
Client: Water Authority of Great Neck North
Location: Great Neck, New York
Project Type: Grace Avenue Water Main Improvements
Project Period: 2011 - 2012
D&B Project Manager: William D. Merklin, P.E.
Project Cost: $1,600,000

Project Description
D&B provided engineering services for the design and construction management of approximately 3,250 feet of water main including both 12" and 8" diameter for the Water Authority of Great Neck North in Great Neck, New York. The work was primarily on residential streets containing multi-story apartment buildings within the Authority's service area. The existing water mains had reached the end of their useful life and required replacement.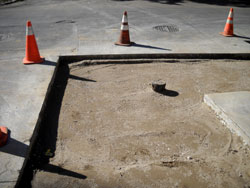 Significant difficulties during design and construction included the location of and coordination with existing utilities. Maintenance and protection of traffic played a critical role in the work as Grace Avenue is both a major local corridor and a largely utilized parking area. Due to the age of the existing mains and valves, several hydrostops were required in order to minimize service interruptions to customers. Several undersized water mains were retired and water services transferred to new or larger water mains. Complete roadway reconstruction was performed.
D&B prepared contract drawings and specifications for the project. Construction phase services included office services and field inspection services. D&B assisted the Authority in obtaining approvals from the Nassau County Department of Health (NCDH) for construction and operation of the mains.
See all Profiles related to Water Supply Services


For more information about this service, email us at findingsolutions@db-eng.com.