Westchester Joint Water Works, Evaluation of Alternative Water Supply Sources
Posted on July 27, 2015
Client: Westchester Joint Water Works
Location: Mamaroneck, NY
Project Type: Evaluation of Alternative Water Supply Sources
D&B Project Manager: William D. Merklin, P.E.
Project Cost: $47,000

Project Description
In an effort to improve water quality and to increase redundancy in the water supply system, Westchester Joint Water Works (WJWW) retained the services of Dvirka and Bartilucci Consulting Engineers (D&B) to investigate and evaluate alternative water supply sources. In order to complete this task, D&B updated and utilized WJWW's existing water distribution system computer model. The model was modified to determine the sizes of booster pumping stations, transmission mains and water storage tanks required for each of several scenarios that were developed.
Capital improvement cost estimates for the most feasible alternatives were developed as well as projections of the anticipated operation and maintenance (O&M) costs. Present worth calculations were performed to provide a basis of overall cost comparison over a 20 year period of operation.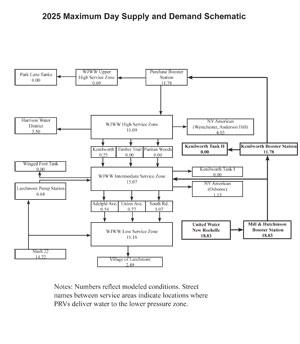 D&B prepared a report summarizing the evaluation and making recommendations that were ultimately utilized by WJWW in their long term planning.
See all Profiles related to Water Supply Services


For more information about this service, email us at findingsolutions@db-eng.com.