New York City School Construction Authority, Window & Roof Replacement/Exterior Masonry/Flood Elimination
Posted on June 16, 2010
Client: New York City School Construction Authority
Location: Dr. Betty Shabazz Elementary School, P.S. 298, 85 Watkins Street, Brooklyn, New York
Project Type: Window & Roof Replacement/Exterior Masonry/Flood Elimination
Project Period: 2008 - 2010
Project Cost: $6,100,000

Major Components
Phase I – Field Investigation & Scope Report
Phase II – Design Development & Construction Documents
(Drawings & Specifications), Asbestos/Lead Abatement, and Estimating
Phase III – Construction Administration Services & Project Closeout
Project Description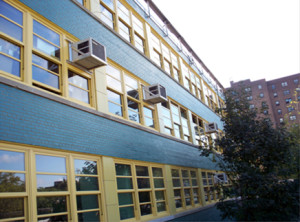 D&B submitted a report that allowed this significant building in the "International Style" to be listed as SHPO-eligible. All new building elements match existing style.
A complete Scope  Report was prepared to investigate existing conditions, analyze proposed solutions, estimate costs, and to fully meet the client's needs. The Scope Report is used as the basis for the development of the Construction Documents. The initial report estimate is developed in conjunction with the overall project design. All drawing data is supported by a Specification book. The original windows, a bright yellow, were well beyond their useful life and in need of replacement. Entry door  canopies and main roofing systems were replaced. Exterior  masonry walls were repaired by face brick replacement of the glazed turquoise and tan bricks, and repointing. Areas of the site were repaired and re-graded to address water issues.
See all Profiles related to Architecture


For more information about this service, email us at findingsolutions@db-eng.com.