Yonkers Joint Wastewater Treatment Plant, Primary and Secondary Treatment Facilities Odor Abatement
Posted on June 30, 2015
Client: Westchester County Department of Environmental Facilities
Location: Westchester, New York
Project Period: 1993- 1999
Project Cost: $11,000,000

Major Components
Odor Control Building
Mist Scrubbers – 3 @ 12' diameter x 30' H
FRP Ductwork 10" – 72" diameter
FRP Exhaust Stack – 36" diameter
Flat Aluminum Cover System (63,000 sf)
Variables Speed Odor Control Exhaust Fan System
Air Dispersion Modeling
NYSDEC/WCDOH Stack Emission Permitting/Testing
Chemical Storage
Primary Settling Tank Influent Channel Aeration
Project Description
The project was designed as a Phase II approach to odor abatement at the facility and included covering of aerated grit chambers, primary settling tanks, primary settling tank effluent channels, aeration tank influent channels and aeration tanks, and the collection and treatment of odorous air. The project was completed on schedule and within budget.
D&B Project Responsibilities
D&B was responsible for project planning, emissions permitting, public participation
meetings, facility renderings, design, bidding services, construction management services, O&M manuals, as well as start-up and training assistance.
Planning and design services included a Design Recommendations Report, evaluation of odor
concerns, literature searches, evaluation of odor treatment technologies, evaluation of process tank covering systems, air dispension modeling and NYSDEC/WCDOH permitting.
Covering of grit chambers, settling tanks and effluent channels, aeration tanks and influent channels
New odorous air facilities built over existing tunnel system
Aesthetically pleasing and constructed to satisfy local community
Project milestones implemented to comply with community commitments
Completed on-schedule, on-budget
Major Problems Anticipated and Resolved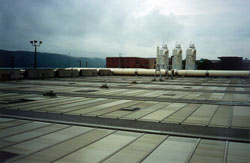 Complex design issues included limited site availability for the proposed odor control facilities requiring portions of the new facilities to be constructed over an existing tunnel system; FRP ductwork in sizes up to 72 inches in diameter and coordination with existing structures; mitigating odors and constructing facilities aesthetically pleasing and to the satisfaction of the local community; air dispersion modeling including a significant rise in terrain. Project milestones were also implemented to comply with community commitments.
Engineering Description
Design Recommendations Report for project scoping for odor abatement for the 90 mgd wastewater treatment plant including the aerated grit chambers, primary settling tank influent channels, primary settling tanks, primary settling tank effluent channels, aeration tank influent channels and aeration tanks. All work with the exception of the aeration tanks proceeded to construction, with the aeration tanks scheduled to be completed at a later date as Phase III.
Odor Control Mist Scrubbers – 3 @ 12' diameter x 30' H
FRP Odor Control Ductwork System – 10" – 72" diameter
Odor Control Building including VFDs, chemical storage tanks, chemical pumps, air compressor systems, odor control system controls, electrical equipment, etc.
Air Emission Permitting (Air Dispersion Modeling) – NYSDEC/WCDOH
Installation of 63,000 square feet of flat aluminum cover system
FRP Discharge Stack – 36" diameter
Variable Speed Odor Control Exhaust System (enclosed exhaust fans)
Participating Disciplines
Emissions Permitting
Mechanical
Air Dispersion Modeling
Structural
Odor Control Processes
Electrical
Site Development
Hydraulic
Community Involvement
Startup/Training
Construction Management







See all Profiles related to Wastewater Management


For more information about this service, email us at findingsolutions@db-eng.com.