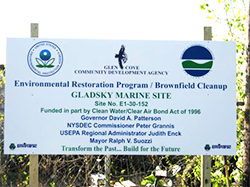 In March 2010, the City of Glen Cove Community Development Agency (CDA) initiated a remedial construction program in support of the Brownfield cleanup at the Former Gladksy Marine Site located at 51 Garvies Point Road in Glen Cove, New York. The Site, which is currently vacant, was previously home to Gladsky Marine, which operated as a marina and marine craft repair facility from the early 1970's until 1999. Results of prior environmental investigations completed at the site identified the presence of semi-volatile organic compounds and metals exceeding respective standards, criteria and guidelines (SCGs) in surface and subsurface soil throughout the site. Additionally, a portion of the Site along the existing bulkhead was also found to contain asbestos containing materials in surface and subsurface soil.
Remedial construction was partially funded through grants obtained under the United States Environmental Protection Agency (USEPA) Brownfield Cleanup Grant Program and the New York State Department of Environmental Conservation (NYSDEC) Environmental Restoration Program. These programs are designed to provide assistance to municipalities for the reimbursement of eligible investigation and remediation costs to promote redevelopment of blighted areas for commercial, industrial, residential or public reuse. The remedial construction activities included the following:
Demolition of on-site wood-frame structure, including disconnection of existing utilities;
Closure of existing on-site sanitary UIC structure;
Excavation and proper off-site disposal of SVOC and metal contaminated soil exceeding site-specific SCGs, with a minimum of 2-feet of soil removed across the Site;
Excavation and proper off-site disposal of asbestos containing soil located along the existing bulkhead, with a minimum of 2-feet of soil removed from this area;
Excavation, removal and proper off-site disposal of an underground gasoline storage tank encountered during excavation activities;
Collection of confirmation soil samples to determine final excavation depths, as well as, confirm achievement of site specific clean-up goals;
Placement of clean backfill materials obtained from an off-site, certified clean source to achieve proper post-excavation grading; and
Final site restoration consisting of the placement of 6-inches of topsoil and grass seed across the entire area of the Site.
Substantial completion of remedial construction activities was achieved in November 2010, consistent with the approved project schedule. The overall remedial construction cost was approximately $725,000. D&B Engineers and Architects, P.C. (D&B) provided engineering services to the CDA throughout all phases of this project, including assistance in the preparation of grant funding applications; performance of Phase I and Phase II Environmental Site Assessments, remedial planning/design, construction administration and post-remediation site management (e.g., preparation of site-specific Site Management Plan, environmental easements, etc.).
The remediation of the Gladsky Marine Site is a critical component in the City of Glen Cove's 52 acre Waterfront Revitalization Area (WRA). Under the current land development agreement, the redeveloper's (RXR Glen Isle Partners) plans for the WRA include 860 residential units; a 250 suite luxury hotel including banquet and meeting facilities, a luxury spa, and restaurant; 50,000 sq. ft. of office space; 25,000 sq. ft. of retail space; 85 new boat slips; trolleys servicing nearby bus and rail stations; and nearly 20 acres of accessible public open space along the waterfront and adjacent to the Garvies Point Preserve. The Open Space network will provide for a continuous esplanade and "open space ribbon" along the entire length of the north side of Glen Cove Creek, connecting the project site to Glen Cove's Downtown.
Cleanup efforts at the Gladsky Marine Site were featured by both the CDA and D&B at the National Brownfields Conference held in Philadelphia, PA this past April 2011. The National Brownfields Conference is the largest conference in the nation focused on environmental revitalization and economic redevelopment. A press conference was also held recently by the City of Glen Cove to announce the completion of remedial efforts at the Site. Among those in attendance were Honorable Ralph V. Suozzi City of Glen Cove Mayor; Edward Mangano Nassau County Executive; Peter Scully NYSDEC Region 1 Director.
"The Gladsky Marine site plays an important role in the Glen Cove Waterfront Revitalization Project. Designated as a 1998 Brownfield Showcase Community, the City of Glen Cove has marshaled the resources of federal, state and local governments including Nassau County and leveraged millions of dollars of public and private investment. With the assistance of agency partners in the EPA, this landmark project has bundled several blighted parcels which include Superfund Sites, National Priority List Sites, Brownfields and inactive hazardous waste storage sites to ready for re-development a 52 acre contiguous area of waterfront property," Mangano's office stated in a release.
"We are proud of the progress we have made on cleaning up these formerly contaminated sites and bringing them back to productive use," said Mayor Suozzi. "We are taking important steps to return our waterfront to our community and I thank our elected officials and agency professionals for all that they have done to support us along the way."
Congratulations to the Glen Cove CDA and the D&B Team on this successful achievement. For more information on this project and/or service capabilities related to Brownfields Investigation and Redevelopment, contact Frank DeVita at (516) 364-9890 Ext. 3064.