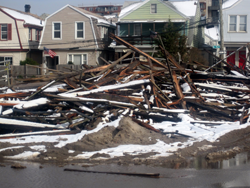 On October 29th, Superstorm Sandy hit the New York City area and caused devastating damage. The facilities of the New York City Department of Environmental Protection (NYCDEP) were not spared. Wastewater treatment plants (WWTPs) were flooded and pump stations were rendered inoperable by the storm surge and loss of electrical power. The NYCDEP called upon D&B for emergency assistance. Approximately 30 pump stations were disabled due to flooding and loss of power. D&B was assigned the task of monitoring the contractors retained to repair the equipment and ensure that the back-up generators supplied the necessary power for the pumps in the interim. Inspection teams comprised of D&B employees were deployed to manage these critical activities.
For weeks after Sandy hit, over 60 D&B employees were assigned to inspection teams that were working on a 24/7 schedule. It was not uncommon to work 12 to 18 hour shifts. D&B employees distinguished themselves in many ways. In some cases, people would complete their normal daily client responsibilities at the firm, sit on gas lines for hours and then report to NYCDEP offices to be assigned emergency work. D&B directed the fuel delivery trucks to the pump stations and coordinated the delivery schedules so the back-up generators would supply continuous power to the pump stations. D&B monitored the pump station functions even through the snow storm several days later and prepared work orders to repair all 30 pump stations. In less than one month's time, all pump stations were once again functioning. As stated in NYCDEP Commissioner Carter H. Strickland Jr.'s letter of gratitude to D&B President Henry Chlupsa, "99% of all wastewater was treated within five days of the storm and 100% within two weeks". This is a tremendous accomplishment given the severity of the damage.
D&B also assisted individuals at the devastated WWTP site in Rockaway. Again, Commissioner Strickland, in his letter, commended D&B's Construction Management (CM) Services as being "instrumental in the plant's recovery." In addition, D&B personnel were assigned to work with LIPA to "clear" private homes in order to re-energize them. This was under the direction of the Mayor's Office of Emergency Management. All this was accomplished by dedicated D&B staff attempting to maintain a balance between being a "first responder" in support of the emergency situation and taking care of their own families, many of whom were without power or whose homes may have been damaged as a result of the storm. All D&B personnel take a great deal of pride in the actions of so many employees who made personal sacrifices during the recovery efforts after Sandy and for going "far above and beyond" their normal job requirements.