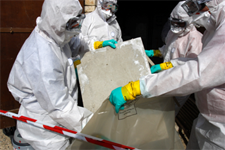 Environmental and human health concerns can arise during construction/demolition activities, especially where hazardous materials such as asbestos, lead, PCBs and mercury are present. This often happens with historical facilities.
Knowing the location, extent and concentration of hazardous materials prior to project initiation eliminates surprises, helps keep projects on schedule and within budget, and limits worker and occupant liabilities.
D&B is staffed with trained, licensed/certified professionals that provide comprehensive Hazardous Materials Management services, including:
Visual Inspections/Sampling
Design of Abatement Programs
Contract Documents
Plans
Specifications
Preparation of Alternative Work Practice Applications
Variances
Oversight of Abatement
Independent Asbestos Air Sampling/Monitoring
Universal Waste Management
Hazardous Materials Management
Assessment/Abatement Cost Estimating
Development/Implementation of Operation and Maintenance Plans
Comprehensive Hazardous Materials Assessments early in project planning phases invariably act as a relatively inexpensive insurance policy that protects against future claims related to unknown hazards.
Overall, conducting a thorough and comprehensive Hazardous Materials Assessment early in the planning phases of your project, invariably acts as an inexpensive insurance policy aimed at protecting you from future claims related to unknown hazards.