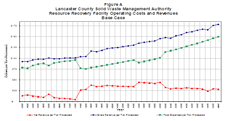 D&B's continual involvement in technology assessments and economic and system modeling for SWM facility feasibility analyses includes evaluation of MSW processing, materials recovery, digestion, WTE, waste conversion, composting, and landfill projects. We conduct thorough information and data gathering, evaluate existing systems and programs, engineering designs and operations necessary to develop accurate and reliable economic and financial models.
We also present our professional opinions regarding program and project feasibility to our public and private sector clients, bond underwriters, bond counsel, and bond insurers.
Our POEM Approach
Our unique Program Operations and Economic Model (POEM) approach provides in-depth and accurate modeling and financial projections. The model provides the format for comprehensive programmatic and technical assessments and financial projections for a facility or system based upon our analyses of key technical, environmental, marketing and business parameters, in conjunction with project planning assumptions. Our feasibility analyses for potential financings also include analyses of relevant documents including:
Service agreements for construction and operation
Market analyses and agreements for the purchase of energy and recovered materials
Bond resolutions defining the mechanism by which annual fees to participants will be calculated
Debt service schedules prepared by underwriters or financial advisors
Bond insurance contracts
Authority enabling resolutions
Permits
Agreements for residuals and ash disposal
The technical and financial projections prepared typically include multiple scenarios, which predict a range of outcomes based on key financial, economic, and facility performance factors.
Based upon our document review and financial projections, D&B renders a professional opinion regarding the ability of the facility or system to perform as anticipated by its sponsors. Our opinion also addresses the ability of the project participants to uphold their financial, contractual, and regulatory obligations. Our opinions are relied upon by public sector clients, underwriters, bond counsel, bond rating agencies, and bond insurers in rendering their own opinions and pricing the bond insurance and rating the bonds.